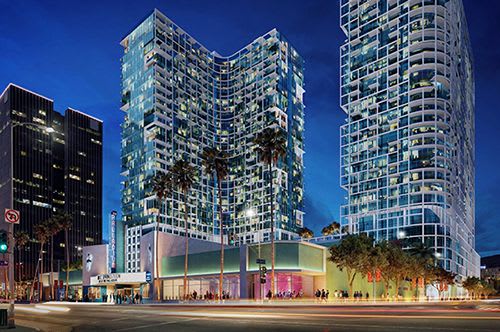 The voters who turned out for Tuesday's municipal election sent a resounding message about the future of Los Angeles, as Measure S—widely seen as a regressive, damaging effort to preserve the unsustainable status quo in L.A. housing and development—was overwhelmingly defeated by a 2-to-1 margin.
The question now becomes: Where does L.A. go from here?
Demand for housing in Los Angeles remains high, and voters appear resolute in endorsing re-elected Mayor Eric Garcetti's vision—100,000 new housing units citywide, with emphasis on neighborhoods that benefit from the city's existing mass transit infrastructure, like Hollywood and downtown.
Opponents of Measure S successfully argued that the problem with housing affordability was due to supply and demand. Los Angeles is in the midst of a population upswing as it becomes a city defined by its diverse artistic and economic climate, and increasingly less by Hollywood. Stagnation in housing development, coupled with a growing population of renters, has pushed rents up—not luxury apartment towers. The initiative would have stalled countless developments currently in the pipeline, and prevented many more from coming to fruition, in an attempt to stop the bleeding. In so doing, demand would continue to increase, as would rent along with it.
The initiative did seem to have a positive effect, however; one that addresses a valid complaint from its backers. A part of the ballot measure's requirements would have been to force City Hall to revisit and update the city's numerous community plans, most of which are outdated. The initiative's two-year moratorium specifically targeted projects that required spot zoning changes, in which developers request special permission from the City Council to develop a project—such as Hollywood's Columbia Square, or its proposed Palladium Residences project—to allow for the construction of a development that exceeds allowances by the community plan.
Michael Weinstein, who led the campaign in favor of S, suggested that this practice was unsustainable and would lead to a chaotic future in L.A. that had little cohesion or proper planning.
Apparently prepared to address this specific complaint, the city council voted unanimously to update 35 community plans for the Los Angeles metro area every six years and to have each plan updated by 2024. The move came in response to what was perhaps Weinstein's strongest selling point and demonstrates a willingness by the city's governance to tackle some of the initiative's more valid points. More frequent community plan revision opens the door for amendments and changes that respond organically with the evolution of the city's neighborhoods and means that messy practices such as spot zoning can be replaced with more cohesive ones. L.A.'s numerous boulevards—already the foundation for Metro's continued expansion—offer ample opportunity to expand on this vision for the city, while still preserving quieter neighborhoods that have long defined the city's culture.
Garcetti, his government, and a large number of L.A. voters have doubled down on the city's current trajectory. Defeat of S and the preceding vote to update the community plan, along with the passage of Measure H's homeless housing and services tax increase and last November's Measure M transit initiative, represents a commitment to stay the course and leave L.A.'s antiquated, mid-20th century development culture in the past.